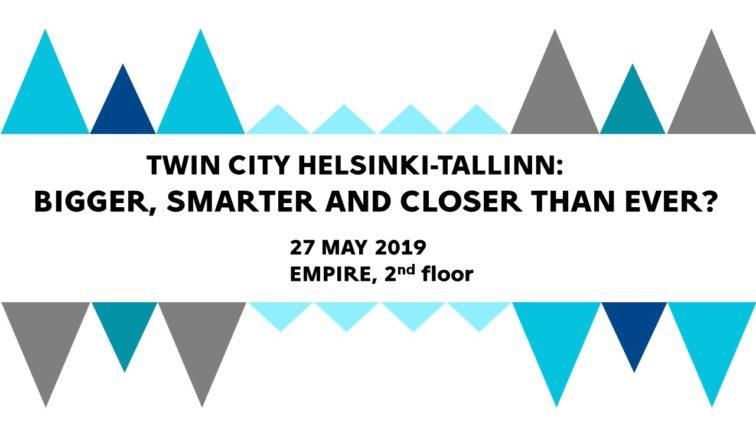 Tapahtumat
Twin city Helsinki-Tallinn: bigger, smarter and closer than ever?
15 toukokuun 2019
MONDAY 27 MAY 2019, time: 10.30-13 (13-14 LUNCH)
EMPIRE ROOM, ALEKSANTERINKATU 20, HELSINKI
The twin city development of the neighbor cities Helsinki and Tallinn has been a topic for discussions and various projects since late 1990s. In spring 2018 the Mayors of Helsinki and Tallinn signed a joint memorandum and agreed to work together especially in four priority areas: 1) mobility of people and goods, 2) services for non-residents, 3) competitiveness and marketing of the region and 4) well-being of the Baltic Sea.  In this seminar the priority topics 1-3 for collaboration will be discussed from the academic and practical perspective: What do we know already? What have we achieved? What needs to be done to achieve the strategic goals?
Coffee is served at 10-10.30
Welcome!
Marja-Leena Rinkineva, Director of Economic Development, City of Helsinki
Helsinki-Tallinn twin city development: on the agenda again 
Outi Jäppinen, Senior Advisor/City of Helsinki
Toomas Haidak, Head of Strategy Unit/City of Tallinn
PART I
REGIONAL COMPETITIVENESS: TWIN-CITY BUSINESS OPPORTUNITIES?
How to develop the competitiveness of the region together?
How do the companies choose their locations?
Investment motives of Finnish multinational companies in Estonia  
Tamas Lahdelma, Researcher/City of Helsinki, Robust research project
Services for companies and startups in the Hel-Tal region
Valdar Liive, Business Advisor, Newco/City of Helsinki
PART II
AN INTEGRATED TWIN-CITY: MOBILITY WITHOUT BORDERS? 
How do residents and businesses use the region in their everyday life?  
Do we still have borders and barriers between the cities?  
Tracing Cross-Broder Mobility Between Finland and Estonia Using Big Data and Mobile Phone Roaming Datasets 
Siiri Silm, Researcher/University of Tartu
Olle Järv, Researcher/Institute of Urban & Regional Studies and Digital Geography Lab/University of Helsinki
Smooth Travels and Speed Bumps – Impact and Lessons Learned from FinEst Smart Mobility Project
Suvi Hänninen, Project Manager/City of Helsinki
PART III
THE UNSHAPED FUTURE
What is the future vision for the Helsinki-Tallinn region? Who creates the future?   
Finest TWINS: Building a Smart and Sustainable Talsinki as a Prototype for Europe and the World
Ralf-Martin Soe, Research Fellow and Smart City Lead/ Ragnar Nurkse Department of Innovation and Governance, TalTech University  
Closing remarks
13-14           NETWORKING LUNCH 
Organizers: City of Helsinki and Urban Academy